Hi friends Happy Thursday! I never thought at the beginning of September I would be cozied up in fleece joggers and a sweatshirt around the house. OR that my Mom in Colorado would be getting 6+ inches of snow! I need some more warmer days before the snow gets here and I'm bundling up like an Eskimo!
I had so much fun getting some fall colored dishes out and playing around with some tablescapes. Just mix your favorite dishes and colors together. Seriously, there is no right and wrong here. I found some really cute pumpkin plates at Hobby Lobby for a few dollars each that I am using here. So let's have some fun and see How to Set a Fall Tablescape.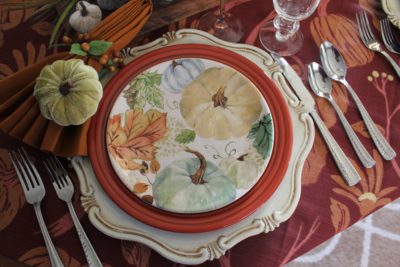 First, I put down a square tablecloth at an angle. You could use place mats or a table runner. I have even used a scarf, they make the best table runners! Then added a charger and the plates. Next is your silverware and a wine glass or two or three (the more the merrier), just kidding…or am I? I folded a cloth napkin (I think they add a little "fancy" to the table) and a pumpkin at each place setting.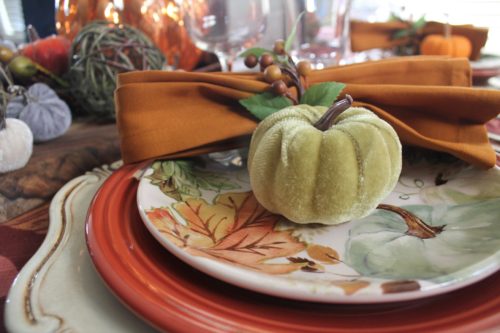 These little velvet pumpkins are the cutest! Or…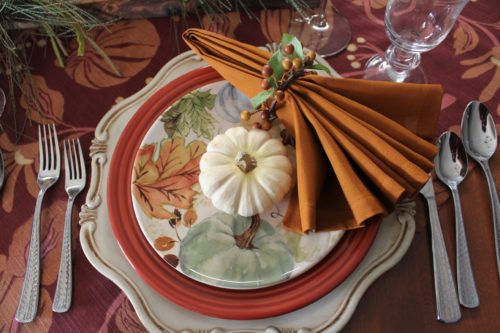 …use a real one! I mixed real and fake through out the whole tablescape, using a different color at each place setting. Get creative with what you have around the house. I have even grabbed one of my kid's favorite little toys and put it on their plate to help keep them occupied if the adults are taking too long and you want them to stay at the table with you.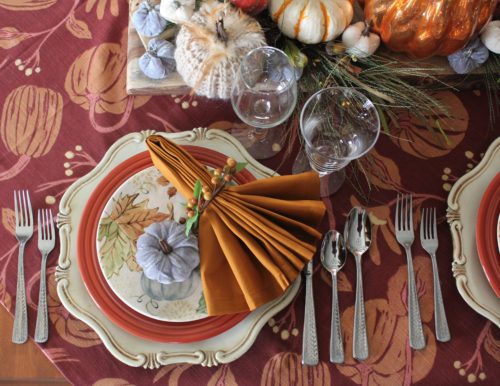 Now that I am sitting here writing this, I think it would be fun to fold your napkins into a pocket and put the silverware in them. HERE you can find creative ways to fold a napkin. There are so many! How about folding each one different?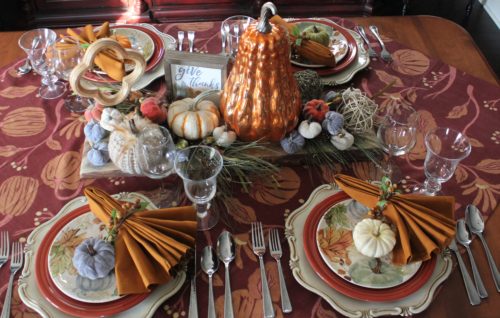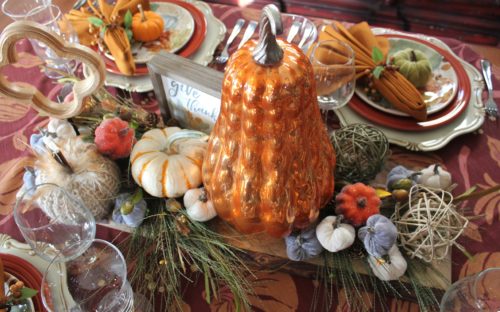 For the center piece I put down a wooden board then added my favorite pumpkin (because just look at her!) and then some green stems, pumpkins and a little sign. A candle or two would be pretty here also…see, I always think of these things later.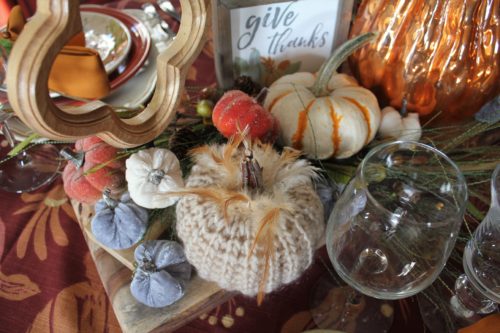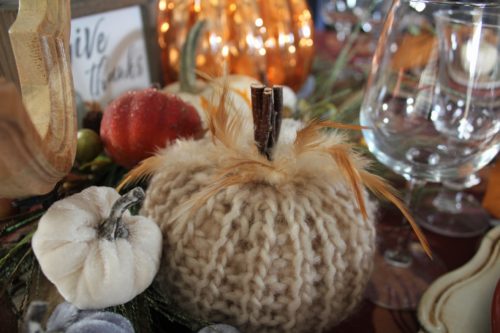 Whether you are setting a table for 2 or 22, I think it adds a special touch for any meal and makes your family and guests feel special. I hope I have given you a bit of inspiration and your creative side will think of all sorts of fun ways on How to Set a Fall Tablescape. I've also added some links of some of my favorite dishes and table settings for you to wander through. The holidays are always a good "excuse" to get something new for the table.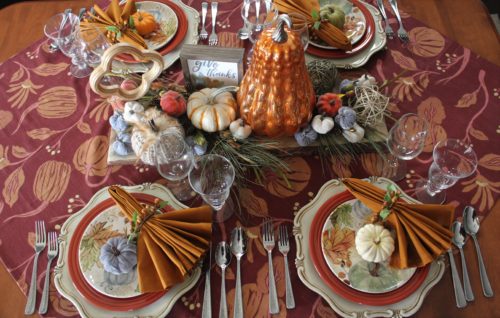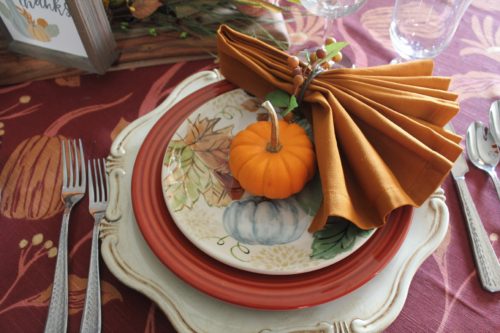 Here are some easy ways to decorate for Fall Around Your Home & some Easy Muffins to munch on while you are decorating! ♥
You can also find me on Instagram, Facebook & Pinterest. Make sure and never miss a post…join here!
This post contains affiliate links. All opinions are my own.
If you are on Pinterest it would be awesome if you shared this photo…thanks!